Being a mother of three who is constantly on the go, I am always on the lookout for a diaper bag that is cute, stylish, AND functional. I never even entertained the idea of making my own bag (it seemed like so much work!) until Abby over at
Sew Much Ado
put out a tester call for the
Airdrie bag
. As soon as I saw the bag, and all the awesome details and storage pockets, I knew I had to try to make one for myself. And guys, I LOVE my bag.
I am not going to lie to you here: making a diaper bag with this many components intimidated me a bit (THREE zippers, adjustable messenger strap, magnetic snap pocket, side pockets, interior zippered divider pocket, interior elastic pockets...I told you this bag had a ton of elements!) and I have been sewing since I was 9. But I had always sewn clothes and never dreamed that I would love sewing a bag as much as I did.
My sister and adorable niece modeling my Airdrie bag. Don't you just want to smoosh those delicious baby legs?!
I seriously loved putting this bag together. It was so much fun and the pattern went together like a dream. I felt like I was putting together a really awesome, 3-D jigsaw puzzle that gave me an amazing diaper bag at the end.
Having never sewn a bag before, I learned a lot of new skills putting together my Airdrie bag. One of them was installing a magnetic snap for the front pocket. It was so simple to do and I feel like such a pro whenever I use it. My husband was super impressed with it as well (shhh...don't tell him how easy it was).
And I love this front pocket. I keep my lip gloss, hand sanitizer, and pocket first aid kit up there and I still have plenty of room.
I had also never sewn a welted zipper, which is located on the back of the bag. Abby's instructions and clear pictures made this step a cinch and I was amazed at how quickly it came together and how polished it looks.
The exterior also has two side gusset pockets, which are so nice to have and are much bigger than I initially thought. So big, in fact, that I can fit my kids' Thermos Funtainer sippy cups in them with no problem.
The other pocket I use for my keys and phone, since I reach for those two items the most when I'm out and about.
And can we talk about the interior of this bag?! Two elastic pockets on the back side of the bag (where I keep my diapers and wipes) and a divided zipper pocket (which fits my iPad mini), which nicely separates my side of the bag from the kids' side of the bag. I love having this divider so I know my wallet and lotion are always at the front, and the snacks and colors for the kiddos are always at the back.
Here is my bag, all packed and ready to go. And I honestly could stuff more in there (which I normally do), but it looks so nice and organized for the picture.
I had also never really worked with home decor fabric (which is recommended for the exterior of the bag) but it was such a nice change from working with stretchy knits or wrinkly cotton fabrics.
I signed up to test this pattern a little unsure of what I was getting myself into since I had never sewn a bag before, much less one with so many amazing features, but came away loving the process (beside the cutting out, but who ever really likes that part?!) and ready to make another one.
I have been using my bag since it's completion (about three weeks now) and it is holding up beautifully. The interfacing and fleece that give the bag it's shape are the perfect combination of sturdy, yet flexible and comfortable.
I have said it so many times in this post, but the Airdrie bag is simply the best and I just love, love, love it!! Don't let the fact that you have never made a bag before stop you from making this one. Abby's pattern and instructions are so clear and professional and you will be amazed at how quickly you will be strolling the town, showing off your one-of-a-kind diaper bag. The pattern is available on
Etsy
so be sure to get your copy!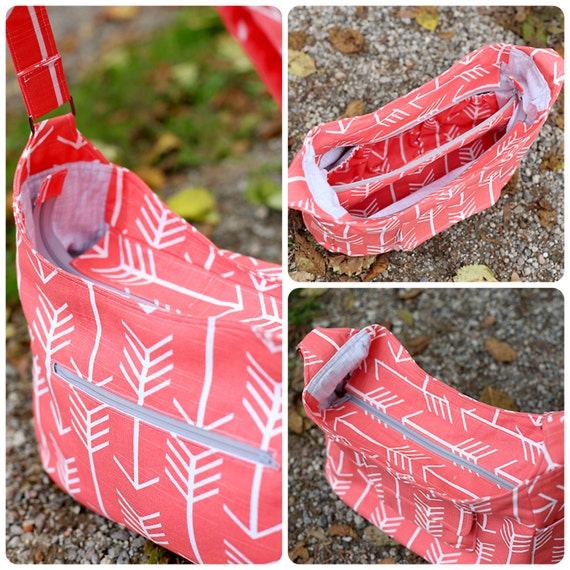 photo copyright Sew Much Ado
***Not a mom? Don't need a diaper bag anymore (stop bragging)? This bag is also perfect for traveling or just running errands around the town. Check out
Sew Much Ado's post
on the other pattern testers photos and see what other inspiring bags they made!
Linking up with these great parties: